We apologize, but the Discount Vaccine Clinic will not be happening for the foreseeable future.
Please note that masks are still highly encouraged for anyone entering the hospital, and unless it is an emergency, please stay in your car and call OR TEXT 951.371.7383 to check in for all other services/pickups. We can check you in and/or prepare your items for you, and then we will call you when we are ready for you to come in.
We understand this is an inconvenience, but please do not enter the waiting area without being called. This is to help ensure the safety and well-being of our clients and employees.
Welcome to Centennial Animal Hospital!
Call or text us today! 951-371-7383
Voted #1 animal hospital by the Press Enterprise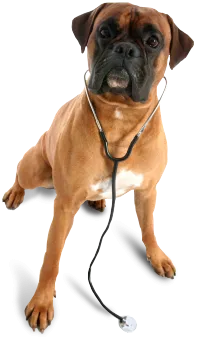 Q: Did you hear about the dog that had her puppies along the highway?

A: She was fined for littering!
Dr. Steven Craft founded Centennial Animal Hospital in 1992 with the idea that "Your family is our family." Today, our veterinarians have over 75 years of combined veterinary experience to provide you with the most advanced veterinary medical care along with the most compassionate personal care for your pet.

Centennial Animal Hospital is a full-service animal hospital. We genuinely care about your pets and all animals, and our staff is passionate about veterinary medicine. We are extremely well-trained with over 100 years of combined experience, and we strive to provide professional, affordable, and modern veterinary services. At Centennial Animal Hospital, you will walk into a calm, welcoming, and friendly environment every visit so that the experience is as comfortable as possible for you and your pet.

Centennial Animal Hospital offers the Corona community emergency veterinary care as well as medical, surgical, and dental services. We also have an in-house pharmacy with access to specialists, making our veterinary facility a one-stop-shop for your pet's health and medical needs. For directions to our office, see our contact us page.
We look forward to the opportunity to meet you and your pet. We hope to show you our distinctive difference and help your pets live longer, healthier, and happier lives. Remember, at Centennial Animal Hospital, your pets are our family!
Dr. Tyler Craft | Veterinarian | Owner
Centennial Animal Hospital
951-371-7383
1935 Compton Ave
Corona, CA 92881